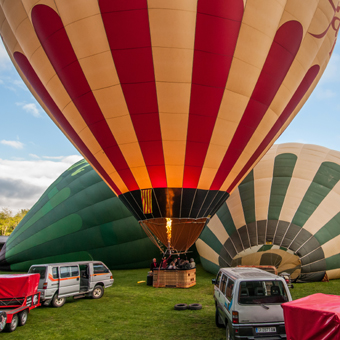 09 May

Air baloon

Enjoy an unforgetable experience flying over the millenary volcanos of the central Catalonia in air baloon. At 2000 meters height you will be amazed by the breathtaking views.

The activity begins early in the morning when we all participate in the inflation of the balloon.

We'll fly during one hour and a half aprox. and the itinerary will be decided by the wind. We will toast with cava and crackling pancake while we enjoy the journey.

A compaby car follows us and pick us up after landing.

One landed, we will enjoy a traditional lunch made of roasted sausage and beans from Santa Pau, and bread with tomato spread on top served with an assortment of cured sausages

Zone: Volcanic area of the Natural Parc of the Garrotxa.

Duración Aprox: 1 hour 30 minuts. Early in the morning.

Accessibility: 100% Accessible. Disability-adapted basket. With door for wheelchair easy access. Coffe shop service with accessible WC . Tracking vehicle also fully adapted for people with mobliity problems.