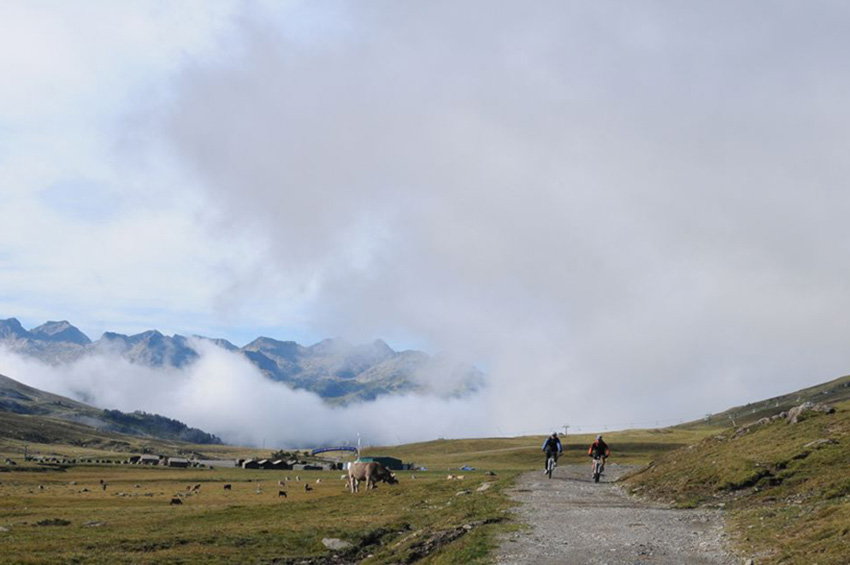 18 Jul

Cycling Through the Land of the Bear

Posted at 13:52h

in

Tours
Enjoy a unique mountain cycling route, crossing the most spectacular and unknown alpine scene- ries.
A gentle descent with a gentle positive gradient, following the course of the river Noguera Pallaresa from its source.
A tour that enables the participants to visit the singular Montgarri Sanctuary and the ancient millenary towns of Isil and Alós d'Isil.
A half day adventure, suitable for all the public. A 32km gentle and continuous mountain bike descent, in a very special environment. The previous night is spent in a mountain hotel, located in the centre of the picturesque town of Esterri d'Áneu.
The tour begins with a transfer, over the mountain pass of Bonaigua (2072 m.) heading to the Pla de Beret, in the neighbou- ring Valle de Aran and finishes in Esterri d'Áneu. Enjoy a route that runs through a spectacular valley of the Pyrenees, where the bear and other wild fauna inhabit. Along the route, we will pass by the picturesque Sanctuary of Montgarri and visit ancient millenary towns.
The tour can be guided or self-guided, if you prefer to enjoy the route at your rhythm.
Extras
Lunch in restaurant or picnic half way through the route.
SPA circuit in the hotel, after the activity.
Accommodation for the following night, with SPA circuit.
The tour can be adapted to the customer's needs.
Possibility of collecting and transferring customers from anywhere in Spain and returning them to their place of origin.